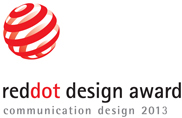 The exhibition designers of JENSEITS DES HORIZONTS receive a coveted Red Dot Communication Design Award in the category of "Event Design" for the design and conception of the exhibition. The Red Dot Award is one of the world's largest and most prestigious design competitions. Only the best receive the Red Dot seal of quality for design.
The winners will be feted at the Red Dot Gala on October 18, 2013 at the Konzerthaus Berlin before an international audience of movers and shakers in the creative industries. The winning entries will then be presented to the public at a special exhibition entitled "Design on Stage – Winners Red Dot Award: Communication Design 2013" on October 19 and 20, 2013 at Umspannwerk Alexanderplatz and will be featured over the next five years at the exclusive Winners' Online Exhibition.
The Red Dot winners and their creations will also be included in the International Yearbook Communication Design 2013/2014.
The exhibition's designers, led by Ingo Plato and Rebecca Schröder of the architectural and design firm res d, are not alone in celebrating; the show's curators, Dr. Gabriele Pieke and Dr. Astrid Dostert, are also proud to see "their" extraordinary exhibition receive this unexpected honor.
Organized by the Excellence Cluster Topoi and the Berlin State Museums, the "Beyond the Horizon" exhibition ran from June 22 to September 30, 2012 at the Pergamon Museum in Berlin. It enabled over 100,000 visitors to explore the interplay between space and knowledge in the cultures of the ancient world and was the first ancient studies exhibition to show how life in the ancient world was organized across cultures and throughout the ages – from studying the sky to mapping the world, from the invention of writing to the sound of music, from measuring the human body to localizing the soul. Over 400 exhibits from diverse historical and geographical contexts were presented in combination with cutting edge media materials, together forming a compelling narrative on cultural technologies and their role in dealings with spatial phenomena in the ancient world.
An overview of the exhibition and a complete catalog of the exhibits is available online at the exhibition website: www.jenseits-des-horizonts.de.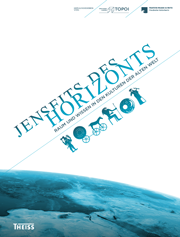 The website also features a free PDF version of the exhibition's lavishly illustrated companion volume:
Märtin, Ralf-Peter
Jenseits des Horizonts
Raum und Wissen in den Kulturen der Alten Welt
Herausgegeben vom Exzellenzcluster Topoi und den Staatlichen Museen zu Berlin.
2012. 1. Auflage
176 Seiten mit 130 farbigen Abbildungen. 21 x 27 cm. Gebunden mit Schutzumschlag.
ISBN 978-3-8062-2621-8