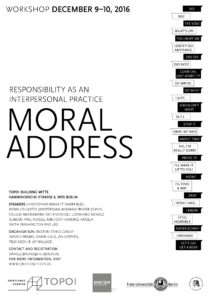 The theme of this workshop is the idea of moral responsibility as an interpersonal practice through which moral claims or demands are addressed by participants toward each other. Our interest lies in what it is to address demands to someone, as well as related forms of interpersonal exchange about moral wrongs, such as blame, the voicing of complaint, forgiveness, and atonement. Questions regarding the norms that govern these kinds of interpersonal exchanges, as well as their relation to other modes of moral assessment, will also be the focus of discussion.
The workshop is part of a series of events convened by Prof. R. Jay Wallace and the Einstein Ethics Group at TOPOI, all of which will be devoted to various aspects of relational normativity in morality and law, and which are funded by a research fellowship held by Prof. Wallace from the Einstein Foundation in Berlin.
Speakers
Chris Bennett (Sheffield), Robin Celikates (Amsterdam), Miranda Fricker (CUNY), Coleen Macnamara (UC Riverside), Leonhard Menges (Lübeck) and Angela Smith (Washington and Lee).
Organized by
Einstein Ethics Group: Daniele Bruno, Simon Gaus, Jan Gertken, Felix Koch, R. Jay Wallace
The workshop is free to attend but places are limited. For registration, please contact Daniele Bruno.
For more information  visit: www.einsteinethics.de