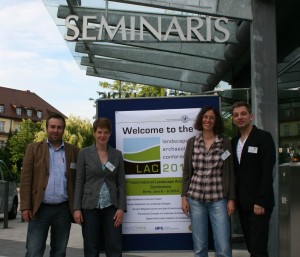 The International Landscape Archaeology Conference took place in Berlin in 2012. The findings have now been published in the latest eTopoi special volume.
From June 6 – 9 the International Landscape Archaeology Conference was held in Berlin. This is the second such conference, the first having taken place in Amsterdam in 2010 when a group of classical scholars and geoscientists convened to exchange interdisciplinary research findings. The interaction between mankind and the landscape is one of Topoi's central themes. What could be more fitting than to hold the LAC 2012 conference in Berlin? The conference was organized by Wiebke Bebermeier and Elke Kaiser, with the active support of Robert Hebenstreit and Jan Krause (photo). Apart from Topoi, financing was provided by the DFG and the European Geosciences Union, with support from the Freie Universität.
The numerous findings of the individual projects can now be read online. The latest special volume from eTopoi presents summaries of the lectures as Extended Abstracts.