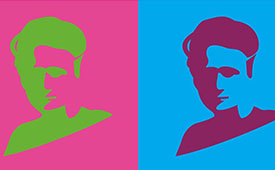 The program's purpose is to support highly-qualified international postdocs. COFUND is designed to support the further academic career of researchers by offering a tailored qualification program. For 15 months researchers get financial support carrying out their own research project. Final goal is a successful grant application for a subsequent research project at Freie Universität.
In 2012, Susanna Harris and Kathryn Piquette have been awarded COFUND Postdoctoral Research Fellowships. Their scientific work is based in the Excellence Program Topoi:
Susanna Harris examines the statue menhir evidence. Her project is a spatial analysis of regional costume motifs in the Final Neolithic and early Bronze Age throughout France, Germany, Italy and Switzerland. The results will provide a and large scale analysis of social identity expressed through costume.
Meanwhile Kathryn Piquette is about to gain a new understanding of the ways in which early Egyptian and Near Eastern writing and art was deployed in the construction and transformation of space and cultural knowledge.