Different ways to health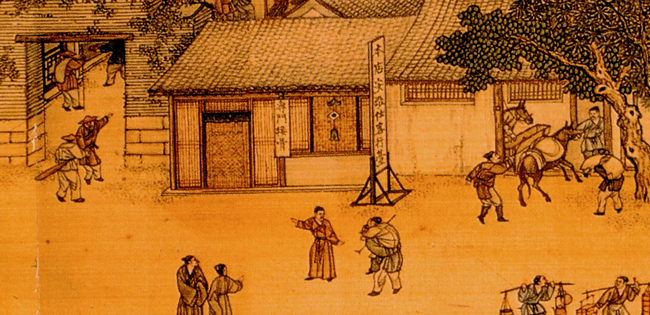 Along the River During the Qingming Festival, Qing Dynasty
In Imperial China, as in other civilizations of the time, different groups of medical experts and various types of healing practices co-existed: Shamans and Buddhist or Daoist monks or nuns practicing religious healing, midwives responsible for the treatment of disorders surrounding childbirth, imperial physicians in official positions at court, itinerant healers, practicing scholar-physicians trained in the Confucian classics, hereditary physicians or scholarly laymen devoted to the study of medicine all had their part in the daily healthcare of the population. Competition among these groups and their members was a major factor for the development of medical theory and practice throughout the 10th to 19th centuries. It included various strategies to gain control over primary and secondary resources, such as medical knowledge, abilities and materials or money, prestige, higher social status, privileges, etc.
In her dissertation "Competition among Medical Experts in Imperial China (10th to 19th centuries)" the doctoral fellow Nalini Kirk focusses on those groups of mostly male healers that practiced medicine among the common people in order to make a living. Two spaces define the existence of these healers: the internal space among experts and the space in which interaction with non-experts took place. Looking at these spaces in terms of competition we find three areas in which competition manifested. Firstly, the medical discourse, where different medical groups and currents claimed to be proposing the right solutions for the patients' well-being and criticized methods and attitudes of other groups. Secondly, the judicial space in which laws concerning experts were made and implemented and thirdly, the "mercantile space", in which healers directly competed with other experts or expert groups for calls, payment, and patronage.
These spaces do not just include printed medical literature, but also non-elite views and practices. Therefore sources reflecting these, such as medical manuscripts, fictional narratives, and judicial case studies, will be used as well. The Staatsbibliothek and the Ethnologisches Museum in Berlin house rare and precious manuscripts. Of particular interest for Kirk are the unique manuscripts of itinerant healers of late Imperial China, which have not been edited yet. As expert spaces are fluid and undergo changes, Kirk envisages a diachronic comparison of evidence given in different periods.
The study will discuss the validity of contemporary classifications of medical experts concerning social and epistemic expert-spaces and the interaction of experts and non-experts. Their multiple ways and strategies of competition include elevation of social status or the claim of profound education and ethical principle. In particular, Kirk's study will focus in the dichotomy of secretiveness on the one hand and publication of new ideas on the other as ways of safeguarding group knowledge and practices or gaining influence via their popularization. Furthermore, it will analyze the mutual influences between these strategies and medical theory and practice.
Nalini Kirk´s dissertation is part of the research group (B-5) Personal authorisation of knowledge which investigates the connection between knowledge, authority and personality in space.
---
Image above: Orthopedic medical practice; Source: Detail from the Quing Dynasty picture scroll "Along the River During the Qingming Festival"; © HGI Charité