Fragile but long-lasting: papyri transmitting knowledge through space and time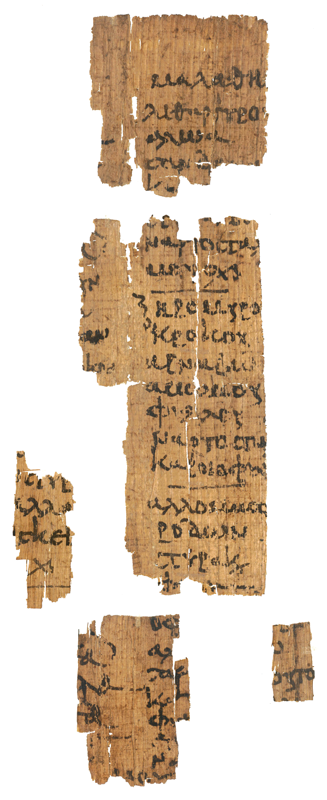 The Italian scholar Francesca Corazza specializes in ancient papyri. Her Ph.D. thesis (D-2-1-1) The missing link: Medicine in Late Antiquity according to the evidence of Greek Papyri is part of the programme History of Ancient Science (HistAS) of the Berlin Graduate School of Ancient Studies (BerGSAS) under supervision of Prof. Philip van der Eijk and in cooperation with the papyri collection at Neues Museum, Berlin.
The project investigates late antique medicine through evidence offered by medical papyri dating from the 4th to the 7th century A.D. The project aims at both a research in philology as well as in cultural history. By examining the whole corpus of original manuscripts, unpublished material will be documented and translated, probably even supplying further information for a new edition of all outstanding medical texts. This may also allow to reconstruct the context in which medical knowledge was transmitted in the Byzantine era and to point out changes and adaptations in medical texts, even suggesting how new professional literary genres were developed.
A database of the ancient texts with interpretive apparatus and translations into modern languages exists, but only a small part of medical papyri has been edited online already, even if their number is increasing continually. Although the provenance of the medical papyri varies greatly, this project concentrates on three major collections: The papyri excavated at Hermoupolis Magna in Middle Egypt, which are currently housed in Berlin, the papyri excavated at Antinoopolis in Middle Egypt (currently housed in the Sackler Library, Oxford) and the Vienna collection of Greek medical fragments which consists of several adespota with pharmacological content, whose provenance is unknown.
Corazza's project will give new insight into the dissemination of medical practice in the Byzantine period, which has been largely neglected in the past. Medical papyri not only reveal a continuing high level of medical debate and therapeutic innovation, but also give direct access to ideas and linguistic material otherwise known only from what today can be seen as the misrepresentation of the famous medical author Galen. Although new papyrological discoveries have been used to transform the modern understanding of ancient Greek and Roman medicine, the significance of the late antique papyri has been underestimated in the scholarly debate. This is due, at least in part, to the fragmentary condition of the papyri, the lack of adequate modern editions and the variety of contents and medical practices involved.
Evidence from Roman Egypt serves to obtain a better view of authors and readers of ancient medical texts and to reconstruct the historical and social context of medicine in Late Antiquity. To achieve this Francesca Corazza employs a carefully balanced interdisciplinary approach which will include medicine, philology and history. Considering the function of these texts – starting from their particular language up to their material condition – helps understanding the methods and theories of practicing and teaching medicine in this period. Evidence from the papyri, when coupled with testimony from distinguished medical writers, can be particularly useful to sketch portraits of writers and readers of ancient medical texts.
But the main issue of papyrus evidence is to preserve the formal adherence of writing and content concerning literary works as well as texts related to current communication. During the period in question, the attested range of known words, the appearance of new ones or their scholarly understanding can change radically with the publication of new texts. Indeed, the intersection of these different lines of enquiry in medical papyri of Late Antiquity appears of particular interest in a number of respects, and its ties with debates in various other areas of ancient science.
This project is part of the research group (D-2) Mapping Body and Soul which continues working at the interface between the history of medicine and philosophy. To learn more about the research of this group visit: topoi.org/group/d-2/projects/
---
Image above: A Late-antique medical papyrus, excavated in Hermoupolis Magna, Middle Egypt, and currently housed in the Egyptian Museum of Berlin. Dated at the 6th century, it contains on five fragments a list of herbs and minerals for the preparation of medical recipes.