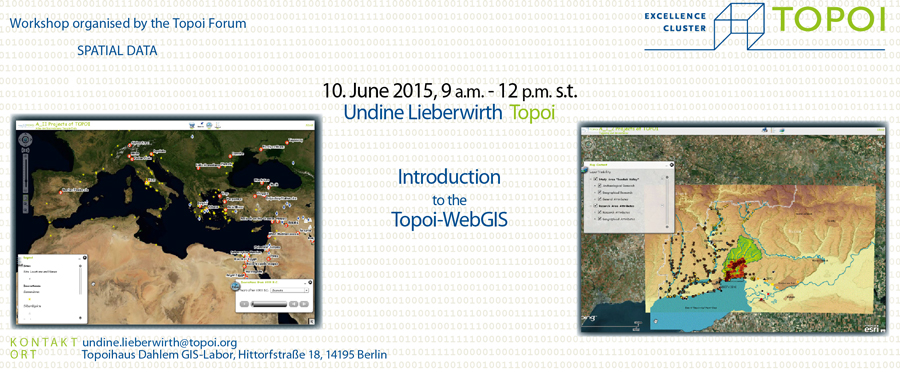 A WebGIS is a digital, interactive platform, which can represent GIS data in a browser-based environment. The web service offers the ability to present maps, perform spatial analyzis and gives access for data download.
The Forum — Spatial Data Analysis invites Topoi researcher to a one-day orientation session on the 10. June 2015 (9 – 12 p.m., Topoihaus Dahlem). The course deals with the digital data processing to prepare spatial data for displaying them in a WebGIS environment. The aim of the course is to provide Topoi researchers a browser-based platform to present their spatial digital data (GIS data) in the internet. After the course, participants will be able to administer their own WebGIS application in accordance with the OGC standards.
Further topics are: managing the WebGIS-layout, selecting the most suitable WebServices and copyright questions.
Examples of Topoi GIS projects are displayed at the Forum — Spatial Data webpage.
The Topoi-forum 'Spatial Data' is responsible for the administration of the WebGIS and ensures further support for all Topoi researchers.
Course requirements
Participants should be familiar with GIS in general and with ArcGIS in particular (the latter is not mandatory). If available it is recommended to bring along your own GIS data. An information sheet, how to prepare your GIS data will be send to all registered participants in advance. Otherwise, test data are provided.
More Information
| | |
| --- | --- |
| | 10.6.2015 |
| 09:00 - 10:30 | Introduction to the Topoi-WebGIS its potential, functionalities and integration into the Topoi concept |
| 10:30 - 12:00 | Introduction to the Web-Server and Application Builder |