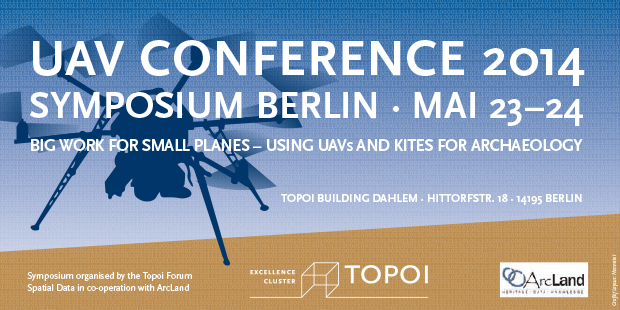 The Conference on Applications of Unmanned Aircraft in archeology and historic preservation
Symposium in Berlin at May 23/24, 2014
The Excellence Cluster Topoi is organizing together with The EU-funded project ArchaeoLandscapes Europe (ArcLand)  a joint conference on UAVs in archaeology and historic preservation – their uses and limitations. The event takes place in a Europe-wide seminar of ArcLand and consists of two parts:
The outcome of both event parts will result in a printed user manual on the use of "UAVs in archaeology (guidelines and tips)". We would be delighted if you wish to participate in our Berlin event as an expert, active or future user, or interested colleague or amateur.
Due to the limited space we ask you kindly to register in advance. The UAVs presentation and Open Symposium on Saturday are open to public witout registration. There will be no entrance fee.
The conference language is English.
Related Links
—> Blog of the "Forum Spatial Data Analysis"
—> UVA Conference 2014
—> Program UVA Conference 2014
—> Registration and contact
| | |
| --- | --- |
| | 23.5.2014 |
| 11:00 - 13:15 | Registration open |
| 13:15 - 13:30 | |
| 13:30 - 14:00 | |
| 14:00 - 14:30 | |
| 14:30 - 15:00 | |
| 15:00 - 15:30 | coffee break |
| 15:30 - 16:00 | |
| 16:00 - 16:30 | |
| 16:30 - 17:00 | |
| 17:00 - 17:45 | |
| 17:45 - 18:15 | |
| 18:15 - 18:45 | |
| 19:00 - 22:00 | Informal meeting & dinner at the pub "Luise" (own expenses) |
| | 24.5.2014 |
| 09:00 - 09:30 | Registration open |
| 09:30 - 10:00 | UAVs introduction |
| 10:00 - 12:00 | |
| 12:00 - 13:00 | Lunch break (own expenses) |
| 13:00 - 15:00 | Open Symposium: questions & answers to the presenters; presentation of a UAV hand book |
| 15:00 - 15:15 | Coffee break |
| 15:15 - 16:15 | Internal meeting |